Restaurant
RESTAURANT ROMANCE
The cuisine focuses on traditional Central European meals in modern lightened version, and food inspired by Mediterranean cuisine. We also offer diet and vegetarian meals. All of our meals are prepared with emphasis on quality and freshness of used ingredients which are preferably of Czech origin.
Parts of the restaurant
MAIN RESTAURANT WITH 80 SEATSmodern and stylish restaurantRESTAURANT SALON WITH 20 SEATSwith an air-conditioning and the possibility to close the lounge (separation from the rest of the restaurant) for private celebrations, meetings or small conferencesSUMMER TERRASE WITH 30 SEATSwith the view on Spring colonnade, Market colonnade and Castle Tower
Our hotel guests are offered to choose either half board or full board.
Breakfast is served in the form of a buffet; lunch and dinner can be selected from our regular menu.
Apart from this regular menu, we offer menus prepared from seasonal and regional ingredients.
OPENING HOURS
KITCHEN
07:30 – 9:00 p.m.
RESTAURANT
07:30 – 9:30 p.m.
OPENING TIME 24.12.2023
KITCHEN
7:30 – 15:30 p.m.
RESTAURANT
7:30 – 16:00 p.m.
Reservation:
RECEPTION tel.00420 353 222 646 (internal telephone line 100)
RESTAURANT tel.00420 359 902 021
EMAIL: restaurant@hotelromance.cz
Or you can fill out the form below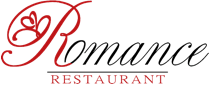 Trziste 37, 360 01 Karlovy Vary F&B manager GSM: 00420 777 603 037 Asistent F&B manager GSM: 00420 775 603 016 E-mail for orders: restaurant@hotelromance.cz tel.: 00420 359 902 021, fax: 00420 353 224 134
---